Helping the Histio Community through Research, Education and Outreach
Each year the Histiocytosis Association aims to help those within the histiocytosis community by providing much needed education while funding the path to a cure.
How We Impact Histio Research
How We Connect and Educate the Medical Community
Investing in the "business of science" by acting as the administrative home for the world-renown professional medical organization the 

Histiocyte Society

, bringing the medical and patient communities together (over 250 members from more than 38 countries).

Collaborating with the Histiocytosis Association's Medical and Scientific Advisory Committee (MSAC) to ensure the best scientific initiatives are being pursued.

Sponsoring and organizing the Annual Meeting of the 

Histiocyte Society

– the only scientific forum that focuses solely on histiocytosis – where more than 200 physicians and researchers gather to share knowledge annually.

Collaborating with numerous histiocytosis organizations around the world, including the Nikolas Symposium, to extend the reach of resources, education and research and to bring the world of histiocytosis closer together.

Enhancing our relationship with the LAM Foundation, to collaborate on improving the care of patients with pulmonary Langerhans cell histiocytosis.

Exhibiting at medical conferences with a focus on sharing information and spreading the results of Association funded research within the medical and research communities
How We Educate Patients, Caregivers, and Others
Hosting virtual webinars with expert physicians and researchers from around the world to discuss the latest information.

Providing a centralized and current source of information and resources to more than 200,000 unique visitors via the Association's website.

Distributing educational information to more than 900 newly diagnosed patients and families annually.

Providing 

resources and information

to more than 19,500 physicians, patients, families and friends since the organization began in 1986.

Partnering 

with the Jason Carter Clinical Trials Program to make clinical trial information more accessible and understandable.

Participating in local and virtual community events where Association staff hosts awareness booths and distributes information about histiocytic disorders.
How We Connect and Support the Histio Community
Maintaining current information on over 360 physicians in the Histio Physician Directory that provides patients and families with access to experienced clinicians, which can result in better outcomes for patients.

Working

closely with the medical leadership of the Histiocyte Society to create and maintain a COVID-19 Information Hub to help address histio-related concerns and provide important information.

Engage

focus groups, conduct surveys, and connect with individuals across the community to learn more about how we can continue to improve resources.

 
A Critical Purpose
Since it was founded in 1986, the Histiocytosis Association has worked efficiently and effectively to provide vital services for patients, families, physicians and scientists fighting histiocytic disorders.  With the support of a small, highly dedicated staff and a corps of skilled volunteers, the Association is able to fund clinical trials and research initiatives, host national and regional conferences, and provide invaluable information to patients, their families and physicians.
It is important to note that because histiocytic disorders affect such a small percentage of the population, these diseases do not generate significant government-supported research.  The Association must rely solely on contributions from corporations, foundations and individual donors to fund critical research, build awareness and implement essential outreach initiatives.
The Histiocytosis Association is committed to getting the greatest possible benefit from every dollar donated and every effort undertaken. Our service model, "The Cycle," ensures that the Association's programs and services are working in tandem – strategically building upon one another to support the search for a cure and the patients fighting these diseases today.
Annual Report & Financial Statements
The Histiocytosis Association is recognized as a tax-exempt organization under section 501(c)3 of the Internal Revenue Code, Federal Tax ID number 22-2827069.
Below are the Association's most recent financial statements and documents.
2021 Independent Financial Audit
Income and Expenses Overview
Based on the Fiscal Year ending December 31, 2021.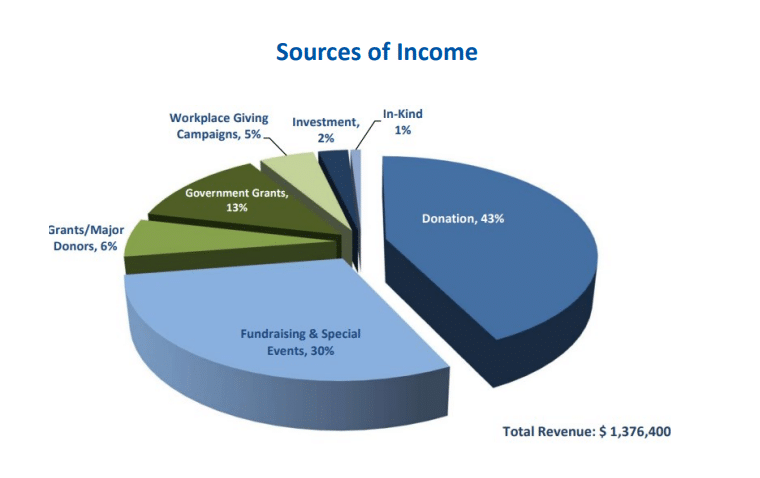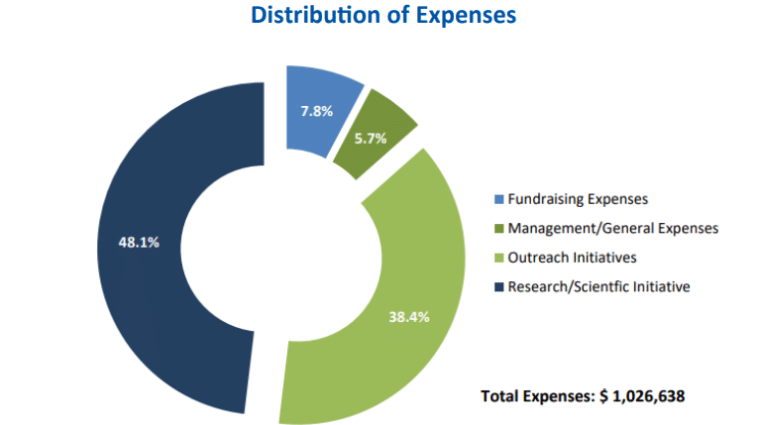 Previous Financial Statements
The Association is a platinum-level GuideStar Exchange participant, demonstrating our commitment to transparency. GuideStar's mission is to revolutionize philanthropy and nonprofit practice by providing information that advances transparency, enables users to make better decisions, and encourages charitable giving.
The Histiocytosis Association is a Four-Star rated charity with Charity Navigator, America's largest independent charity evaluator. Receiving a 4-star rating means we have taken key steps to show you that we are accountable, transparent, and financially healthy.