Adding Dollars to Academics: The Histio Student Scholarship Program
Since its inception in 2019, the histio scholarship program has supported 11 histio warriors and 3 histio family members in their pursuit of a college degree. This is made possible through the support and generosity of the histio community, through gifts and a portion of proceeds from the Histio Hike Shenandoah.


This year, we are excited to be able to continue the program and will be again offering three Histio Warrior Scholarships and one Histio Family Member Scholarship. Each scholarship will fund at least $1000 toward school tuition for those selected. Please see eligibility requirements on the program's webpage.
To touch on their experience with the program, Peter, our Strategic Communications Associate sat down with Histio Warrior Scholarship recipient (and now Histio Ambassador!), Nate Milam. Below are excerpts from their conversation about Nate's journey with HLH, his goals and dreams to help others as a patient advocate, and the impact the scholarship program had.
—
Peter: Can you introduce yourself and talk about what brought you to apply for the scholarship?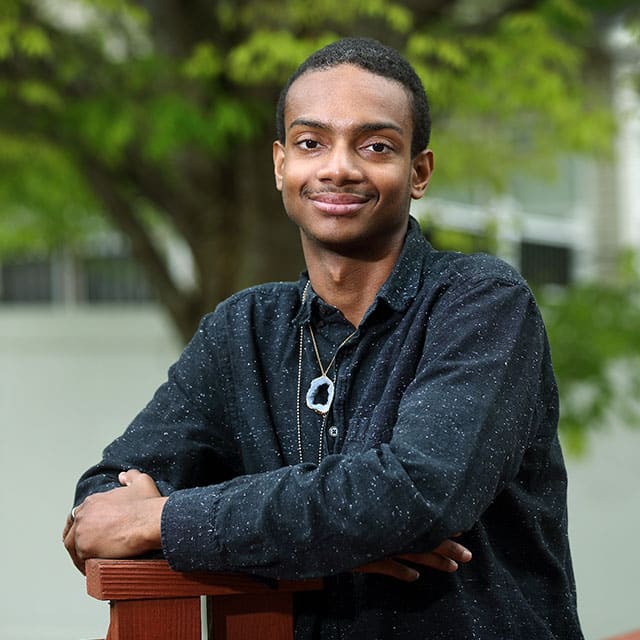 Nate: I am Nate Milam, I was diagnosed with HLH in 2019. I had a bone marrow transplant, and a few years later I applied for this scholarship, to see if there was a chance, I could get some assistance going back to school.
I ended up being selected, to my surprise.
And here we are, a couple of years later.
P: So where are you now in your education?
N: I am still in school. I go the University of Maryland, Global Campus. It's all online.
When I initially started going to school, for the start of the four years, I went to Towson. My sophomore year was when I was diagnosed; it interrupted time at school.
So I was behind then. I switched schools from Towson, because I couldn't go back and I went to a local community college.
I continued to pursue nursing for a couple more years and then COVID hit. I kind of had this inner revelation that what I wanted to do was still in healthcare, but not necessarily nursing.
I did some soul searching and spoke with friends, family, and contacts; I've always been passionate about advocating for people who can't advocate for themselves or don't know how to.
I realized that a patient advocate is an actual path I could pursue.
I ended up switching my major and switching schools, because the school I was going to didn't have a program for that.
P: What is your current major?
N: Health services management. It's an overarching branch of things. I've had a few classes so far that are very focused on my major and it's very interesting. It's lining up pretty well, I think.
P: When you received the scholarship, was it when you were still in the community college?
N: Ironically when I received the scholarship, I think it was either the end of a semester or the summer between. It had nothing to do with my decision, but I happened to decide to switch schools during that summer. I had to email and coordinate, and make sure I could switch the funds from my previous school to this school. They were very nice and helpful, the Association. That ended up working out really well for me.
P: Can you talk about how things have progressed since your bone marrow transplant?
N: It been four years, which is crazy, and there have not been many issues. Right after I happened to get gallstones, but that was unrelated, I'm pretty sure. It's just ironic after all that happened, I had to have gallstones. Since the gallstones, nothing out of the ordinary really.
I've been knocking on wood. I still haven't gotten COVID, which is wonderful, because I'm pretty sure I'm still immunocompromised.
That does lend itself to other conditions, if I get sick or have a cold, it will last a long time. I get dehydrated quickly with my body makeup, and I've always had an issue with my appetite and keeping weight on as well as the dehydration. So, when I'm down with a virus, I've had to explain to employers when I'm out, it's not necessarily because things are "coming back" or I'm having a relapse, its mostly the body makeup because of all that I've gone through.
To that extent, it makes recovering more difficult for me.
P: Do you having anything you'd like to say to anyone who's thinking about applying this year?
N: I would just say go for it (laughs).
I wasn't going to apply. I feel like I say this a lot of times regarding many different things, but I don't necessarily think of myself as a person who wins things. Especially when there are a lot of odds. Like, what are the chances that you apply to something and you actually win?
That's why when I was applying for scholarships I was very discouraged because there's a 1000 people in the world who apply for these scholarships and how are they gonna land on me?
But my mom changed my perspective when it came to this in particular, because she said "How many people in the world do you think have histio disorders?"
It doesn't hurt to do it and see what happens.
I thought there's got to be some way for this to benefit me in my life instead of just using it as a time that's hard to look back on with trauma that impacts the rest of my life.
I think this is a really good opportunity, it's the only one of its kind I know of.
I would just tell people to apply and share your story!
P: Thank you for speaking with me Nate. Anything else to add?
N: I have a goal of gathering a lot of people, everyone, hopefully, who has these disorders, as well as any other rare disorders out there in the world – I want to make a community. Try to make the presence more known, that way more things can be done about earlier diagnosing and things like that.
We need people to speak up about their disorder.
—-
We are so grateful that Nate was open to sharing his story, not only for this interview, but also through applying for the Histio Student Scholarship Program.
Shortly after this interview, Nate reached out to Melinda, our Outreach Program Coordinator, and became the Association's 25th ambassador!
He is a great fit for the program, and we know he will do great things through it as a patient advocate.
We will be posting his bio on the Ambassador Page in the coming weeks.
The applications for the scholarship open this Monday, March 6th and will remain open through April 7th. You can find the application and more information about the Histio Student Scholarship Program on this page, so please share, apply, and learn more!