Learn About the OR Asociación (Spain)
THE STRUGGLE OF HISTIO WARRIORS – About the OR Asociación (Spain)
by Fernando Gotz, President and Founder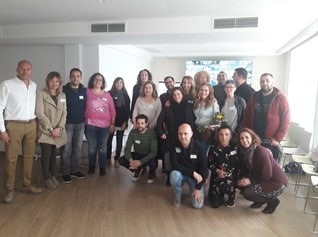 Eyal is a kid who has been fighting against Langerhans cell histiocytosis for over 12 years. With him our history is born.
Eyal signifies strength and volunteering. In 2013, these two words impulsed Eyal's parents, Daniela and Fernando, to create, along with their good friend Marta, OR Asociación. The objective is to accompany and improve the quality of the lives of boys and girls diagnosed with histiocytosis, and their families.
The association simultaneously promotes medical research projects, care aid and awareness to the public. Our first big research study was launched at Hospital de Sant Joan de Déu Barcelona, with whom OR have a very close relationship. This hospital is a European reference in pediatric cancer investigation and also in treatments of patients affected by LCH. At the beginning of 2020 we started to finance a pioneer project in immunotherapy with the Pediátric Hospital Garrahan Hospital in Buenos Aires, Argentina.
Like many parents affected by a grave illness, we know better than anyone the emotional wearing that is generally in the core of families. Because of this, we have developed healthcare accompaniment for parents of young Histio Warriors with histiocytosis and for adult patients affected by histio, creating a net of emotional help and generating links between families that coexist with the disease.
The OR Asociación also strives to make the illness more known to the public. This has been one of the most differentiating elements since 2013. The indefatigable strength has led to create various events and sport initiatives like the solidarity soccer tournament "we score a goal against child cancer," mobilizing a great part of Baix Llobregat, where they have a social campus. Their annual solidarity dinner, together with their restoration group Tibu-Ron Groupo de Castel de Fels, celebrate the 6th edition in the month of May and they consolidate more than 170 annual participants and have contributed almost 500.000€ to research, as one of the unmissable solidarity events in the town.
One of the important networks we have built is the international collaboration with other histiocytosis groups, as is the case with the Histiocytosis Association, who we have been working together with for two years. In August 2020, we organized with great success a webinar with researchers and doctors that specialize in the treatment of histiocytosis. In this chat, 430 people participated between families, patients with histio, and professionals who we connected with from 17 different countries, mostly from Central and South America.
If you want to know more about projects from OR Asociación, you can visit their website, at www.orasociacion.org. Follow all their activity on Instagram or Facebook: @orasociacion.