Yoga Classes Designed With You In Mind
Emotional and physical wellness are important for everyone. And, when we are faced with an obstacle such as receiving a diagnosis of a rare disease or knowing that a loved one is ill, it is more difficult to focus on our emotional and physical wellbeing. The National Institutes of Health (NIH) state that "studies have suggested possible benefits for several aspects of wellness, including stress management, mental/emotional health, promoting healthy eating/activity habits, sleep, and balance." They also discuss the positive impact yoga can have on pain, especially in the low-back and neck, knees, and for tension headaches.
With the histiocytosis community in mind, yoga instructor Becka Florczyk has developed a series of yoga classes, designed for everyone no matter your experience with yoga. The classes are open level, have suggested modifications, and take into consideration mobility, flexibility, balance, and relaxation.
Chair Yoga - Lower Body Focus
Yoga for Histio - Deep Breathing Exercises
Yoga for Histio - Energizing Flow
Chair Yoga for Histio - Neck & Shoulder Focus
Yoga for Histio - Healthy Hips
Yoga for Histio - Spine & Twist Sequence
Becka Florczyk - BeckaFloYoga
Becka Florczyk is a registered yoga teacher; she received training through the Awakening Yoga Academy and is also registered with the Yoga Alliance. In addition, she is a business development executive, world traveler, former collegiate athlete, & certified holistic nutritionist.  Becka's interest in yoga started five years ago; the unexpected physical workout drew her in, however she had no idea that over time she would develop such a sense of peace and connection within her own mind & spirit.
"My motivation for becoming a teacher has much to do with this transformation and it's my continued goal to provide both a physical and spiritual workout for my students every time they step on the mat. Today, I pride myself on the diversity of my classes and my ability to offer various levels of vinyasa yoga, ranging from beginner level to fast-paced and power-focused."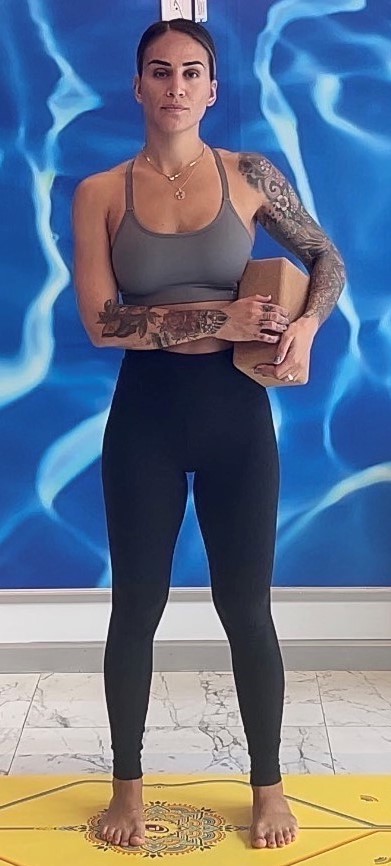 ---
Please consult your doctor if you have any preexisting medical conditions and check if this practice is suitable for you. It is essential that you retain full responsibility for your own physical and general well-being in applying instructions in this guided program to your own circumstances. 'If it doesn't feel right, then don't do it'. We encourage you to stop when you need to. Neither the Histiocytosis Association nor Becka Florczyk accept liability for any injury or otherwise from your participation in this class. As is the case with any physical activity, the risk of injury is always present and cannot be entirely eliminated. If you experience any pain or discomfort you agree to listen to your body, adjust the posture, or stop all together. You affirm that you alone are responsible to decide whether to practice yoga. The Histiocytosis Association is not providing health care, medical, or nutritional therapy services, or attempting to diagnose, treat, prevent, or cure any physical, mental or emotional issue, disease, or condition. You agree and acknowledge that we are not providing medical advice, mental health advice, or religious advice in any way.